Our mission
About Abrumet
Our mission
Abrumet manages the data sharing platform between healthcare actors in the Brussels Region, called the Brussels Health Network.
The mission of this field association is to:
Promote and manage the exchange of electronic health data, in the Brussels region
Provide superior quality of care for the patient as a result
Open up the reflection on and consultation in e-health
Promote innovative and evolving solutions for sharing health data
The platform is intended to be as scalable as e-health and the change in our behaviour in the face of new technologies.
Together we will succeed in making this national public project a platform designed to promote and support the exchange of health data by and between all healthcare professionals for the patients who are at the heart of the system.
The Association Bruxelloise de Télématique Médicale (Abrumet for short) was created in 2005. It is the only non-profit association to date, to bring together all the Brussels hospitals (private, public, university and psychiatric) with the associations of general medicine, the Fédération des Associations de Médecins Généralistes Bruxellois (FAMGB) (Federation of Associations of Brussels General Practitioners) and the Brusselse Huiszorgverstrekkerskring (BHAK) [Brussels Association of General Practitioners] which are the founding members.
In 2012, Abrumet created the Réseau Santé Bruxellois [Brussels Health Network] for the secure electronic sharing of patient health data by and between healthcare providers. This electronic sharing is carried out via secure computer networks that link hospitals, doctors and other non-hospital providers, and patients.
Abrumet is the preferred partner for e-health in the Brussels Region. It promotes cooperation by and between all healthcare stakeholders (politicians, patients, industry and those working in the field) in order to improve the quality of patient care.
Mission 1
Mission 1 A : Technically allow the exchange of health data between hospital care providers and general practitioners, round the clock, year round, via the Brussels Health Network.
Data are exchanged according to the Belgian KMEHR standard. Accessible documents are available in PDF format.
Mission 1 B : Registration and provision of vaccination data; all vaccinations (COVID and non-COVID) and all audiences (adults and children).
Mission 2
Mission 2 A : Allow data exchanges with other front-line healthcare providers who surround the patient: home nurses, physiotherapists, midwives, etc. via the Brussels Health Network.
Abrumet provides a specific safe they can use to exchange data in a structured manner according to IHE international norms and standards.
Mission 2 B : Also allow exchanges with other frontline care providers 24 hours a day, 7 days a week, but according to the FHIR standard. As this standard has become predominant in Belgium, this 2B mission will gradually take precedence over the 2A mission.
Abrumet also develops new tools according to the FHIR standard currently being adopted in Belgium
Mission 3
Monitor the e-Health Plan 2022-2024 in order to provide the doctor's office and COCOM with all the strategic and technical information necessary for decision-making.
Mission 4
Mission 4 A : Training of healthcare providers involved in eHealth in the Brussels Region,
Mission 4 B : Communication with patients
Mission 5
Participate, on behalf of Belgium, in a pilot project to share health record summaries drawn up by general practitioners at the European level (CEF project – Connecting Europe Facilities).
The continuation of the project for the exchange of summaries of electronic health records (SUMEHRs) at European level will be entrusted to the INAMI (National Institute for Health and Disability Insurance) as of 2022, in agreement with the parties concerned. After a successful pilot phase in Brussels for reading foreign patient records, this project will be extended to several regions of the country. The Brussels Health Network will no longer lead the project, but will continue to cooperate actively for its success with the other regional/federal entities involved.
Contexte of the project :
Belgium is a pioneer in health data sharing.  The European Commission has accordingly mandated Abrumet to develop the technical feasibility of SUMEHR exchange in Europe over a period of 4 years (2018-2021).
Abrumet can in fact provide a system with international IHE standards.
If carried out by a region,  this project aspires to national success and must be suitable for all regions of the country.
Objective of the project :
Develop an infrastructure in Belgium (based on existing national infrastructures) for a secure exchange of key patient health information by and between the different European health networks.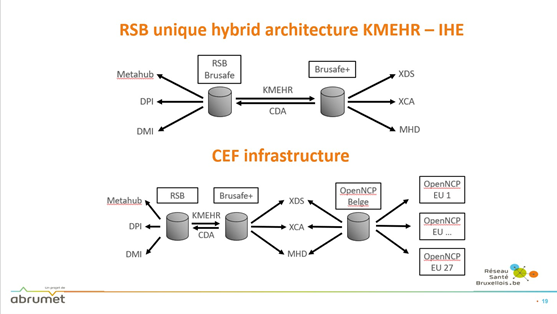 The project is primarily concerned with the patient health summary (the SUMEHR).
Governance
The technical work for the launch of the PS B service (reading the SUMEHR of a European patient in Belgium) was presented in the e-health platform architecture workgroup on 20 December 2019.
The scope of the missions and the procedures for cooperation must now be specified by and between all the parties involved in order to bring this project to an operational conclusion.
Les partenaires
The European Commission
Gnomon Infomatics
FPS health
e-health platform
Link to Europa page
Articles of Association and Activity Reports
NE PAS SUPPRIMER
Financial statements
| | | | | |
| --- | --- | --- | --- | --- |
| Missions | 2018 | 2019 | 2020 | 2021 |
| Structural/Overhead Costs | € 158.449 | € 81.000 |  € 151.762 | € 158 780 |
| Mission 1: Brussels Health Network – Technical maintenance & developments | € 167.468 | € 195.000 |  € 314.020 | € 309 553 |
| Mission 2 : Brusafe+ (multidisciplinary & patient access) – Technical Maintenance and developments | € 325.196 | € 726.000 |  € 826.030 | € 578 759 |
| Mission 3: e-health Roadmap participation | € 33.483 | € 40.000 |  € 41.546 | € 40 502 |
| Mission 4 : Coporate Communication & Training | € 211.976 | € 430.000 |  € 247.258 | € 343 341 |
| Mission 5 : European CEF Project | | € 199.479 |  € 75.676 | € 1 900 |
| Other missions | | | € 9.792 | € 11 906 |
| TOTAL | € 896.572 | € 1.671.479 |  € 1.666.084 | € 1 444 741 |
Depuis deux ans, les comptes de l'ASBL sont certifiés par la société d'audit RSM Belgium.