What is a safe used for?
An electronic safe enables all non-hospital healthcare professionals who do not have a personal computer server to participate in e-health also.
Managed by Abrumet since it was set up in 2012, the Brussels Health Network ensures that health data published by healthcare professionals can be shared securely via this network.
Known as "Brusafe" (short for Brussels safe) it is a kmehr repository.
The e-Health Plan drawn up by all the federal and federated entities provides for a gradual transition for all stakeholders to exchange structured and coded data according to international standards.
Abrumet has developed "Brusafe +", a computer server based on an XDS repository, supplied by Enovation and based on open international standards in the healthcare field, in order to guarantee the interoperability of the systems on our Brussels Health Network.
Purpose of this IHE standard safe
Brusafe+ is connected to the Brussels Health Network and through that network to the Belgian national e-health platform (national hub-metahub).
What is Brusafe + ?
It is a computer server that allows the electronic and secure sharing of encrypted and structured health data accessible round the clock, year round. This safe is distinguished by the fact that it is a tool for structured data exchange according to IHE international norms and standards.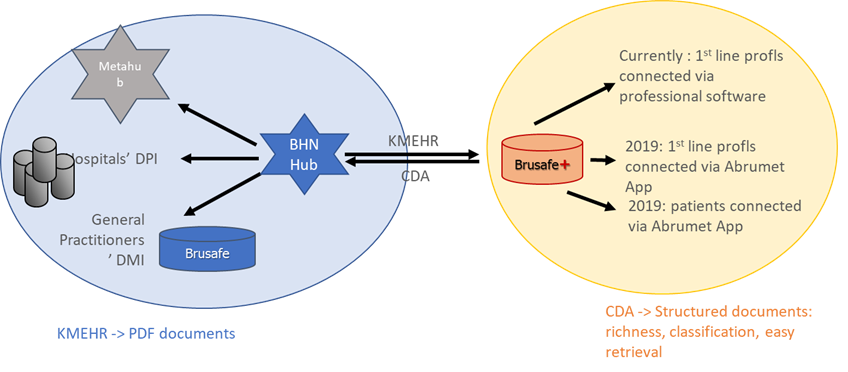 This hybrid system is used to have documents published in KMEHR in the metahub to be mapped / translated into ADC so that information can be exchanged in both directions.  
The main objective is to link different participants in primary care to this new safe so as to guarantee the electronic sharing of multidisciplinary data for the continuity of care on the Brussels Health Network.
For whom is it developed?
1st line healthcare professionals (general practitioners, nurses, physiotherapists, midwives, etc.) but also for healthcare professionals who do not have an INAMI [National Institute for Health and Disability Insurance] number.
private companies and innovative start-ups that wish to connect to the existing e-health infrastructure.
Advantages of Brusafe+
Large community of open-source developers (independence)
Financial advantages related to standards and export sales
Double identification factors: STRONG SECURITY
Mapping of health network documents from KMEHR to CDA format
Opening access to ALL 1st line healthcare professionals
Use of internationally recognized standards
Operating mode
Brusafe + is built on Enovation's XDS platform. With xdsConnect, healthcare organizations can securely exchange medical information with:
All healthcare providers in the field
The patient's general practitioner
Hospital doctors after discharge from hospital
As each health care facility has its own xdsConnect environment, it can be used in several ways, e.g. to exchange medical information with health professionals, for a second opinion with a (university) hospital or to allow the patient to consult his or medical data.
In parallel, a new REST interface has been implemented following the IHE MHD profile. It would offer the same functionalities as the XDS/SOAP interface.
Partners
IT and connected partners :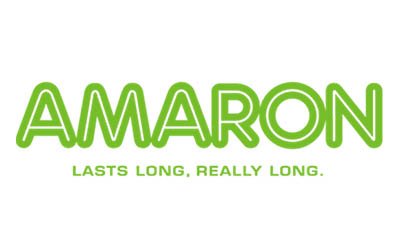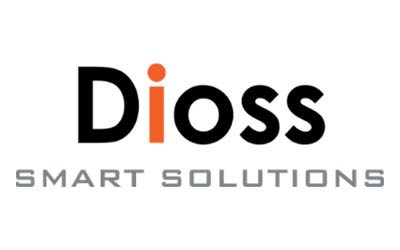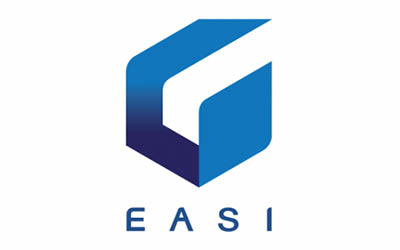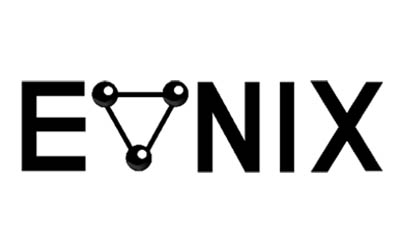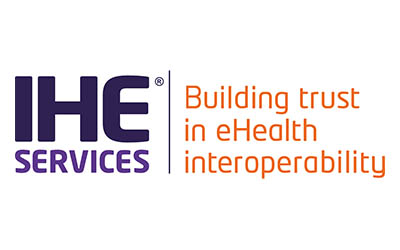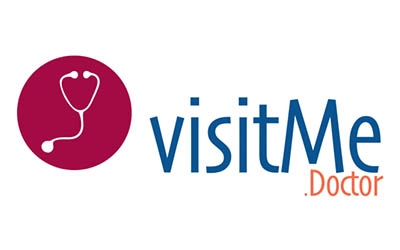 Development tools & usage rules
Go to  https://doc.brusafe.be
For all other questions, please go to the helpdesk.
The FHIR vault will be aligned with the other regional vaults in the country. To do this, Abrumet takes part in inter-vault consultation meetings aimed at providing the software candidates for connection with a cookbook common to the three regions of the country.
The goal is to improve interoperability and standardization between vaults.