SAFELINK:  a tool fo monitoring your COVID-19 patients at home
COVID-19 – eMonitoring First Line is an application used for the monitoring of COVID-19 patients by an attending physicians (who are the only ones to have access to the application for the time being), endorsed by the College of General Medicine and the Société scientifique de Médecine générale (SSMG) (Scientific Society of General Medicine].
SafeLink platform and the tools to help users to get start are available in FR or NL 
COVID-19- Access to the PCR Test Results
When and where to get tested ?
Click on the map to find your test center.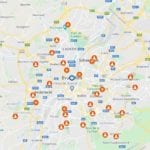 Where can you find your COVID-19 test results?
Wherever you are in Belgium and whatever laboratory performed the analysis:
Consult my COVID-19 results (PCR tests)
Access only to your COVID-19 results, whether or not your consent has been given to the sharing of your health data. Possible access with or without registration on the Brussels Health Network.
If you have consented to the sharing of your health data you will have access to your entire shared Health folder. If you have been tested in one of these hospitals, you will also receive your result via SMS: Bordet, CHU St Pierre, Saint Luc, CHU Brugmann, Huderf, Erasme, Cliniques de l'Europe, UZ Brussel, HIS (Bracops, Molière, Ixelles, Baron Lambert), St Jean, CHIREC.
What if my COVID-19 test result is positive?
You'll find all the information here
The Brussels Health Network brings together all public and private Brussels hospitals as well as the French and Dutch speaking associations of general practitioners in Brussels (FAMGB and BHAK). We are the ideal partner for any project related to e-health in the Brussels region.